If you're a homeowner, you know the importance of professional landscaping & hardscaping services. They add aesthetic value to your home, but they also help keep your property in good condition. That's where GWP Services comes in – we're experts in landscaping and hardscaping services, and we can take care of everything for you. Here are seven reasons you should choose GWP Services for your landscaping and hardscaping needs.
We have the experience and expertise to get the job done right.

We use high-quality materials and products to ensure your satisfaction.

We offer competitive pricing without compromising on quality or service.

We provide a wide range of services to choose from, so you can find the perfect one for your needs.

We're always available to answer your questions and address your concerns.

We're dedicated to providing outstanding customer service.

We're committed to your satisfaction – 100%.
If you're looking for the best landscaping and hardscaping services in town, look no further than GWP Services. We're here to help you with your landscaping and hardscaping needs, so don't hesitate to contact us today.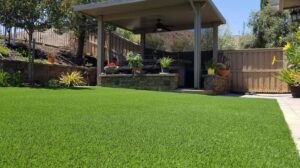 Here are just a couple of benefits of having landscaping and hardscaping at your house: 
The first benefit of having beautiful landscaping and hardscaping is the curb appeal it provides. This is the main factor contributing to the first impression people have when they see your home, so you want it to be a good one!

Landscaping and hardscaping can also add value to your property. If you ever decide to sell your home, potential buyers will be willing to pay more for a property that has well-maintained landscaping and hardscaping.

Landscaping and hardscaping make your property more visually appealing, and they can also help reduce noise pollution. Tall trees and bushes can act as a natural sound barrier, absorbing noise from busy streets or neighboring homes.

Landscaping and hardscaping can also provide privacy and security for your home. Tall hedges or fences can create a barrier between your property and the outside world, deterring intruders and keeping your family safe.

Another benefit of landscaping and hardscaping is that they can help you save money on your energy bills. Planting trees in the right place can provide shade for your home, cooling it down in the summer and reducing the energy you need to use for air conditioning. In the winter, evergreen trees can act as a windbreak, protecting your home from the cold winds and reducing the amount of heat you lose.
Whether you're looking for a one-time service or want to establish a long-term relationship with dependable landscaping & hardscaping services, GWP Services is here for you. We have the experience and expertise to care for all your outdoor needs, from design and installation to maintenance and repair. Contact us today to get started  – we look forward to hearing from you!
Landscaping & Hardscaping Services: Choosing the Right Landscaping Company
Five Ways Gwp Services, Inc. Can Help Your Property Look Its Best This Summer