Complete Renovations in Sherman Oaks
Home Remodeling in Sherman Oaks
There are numerous types of properties out there, different in designs, shape, and structure. It will mean that the owner needs to think about maintenance of the entire property, especially a house. Various aspects need to be well-maintained so that the entire house can look its best. For proper addition and extensions services, it is important that you have the right people for the job. That is what GWP Services & Construction are here for. We are more than dedicated to all our client needs and ensure the delivery of effective renovation solutions.
Design Consultant
Walk-Through

Of Both Product Selection And Design Concepts
We are the top home remodeling company in town! We specialize in all aspects of remodeling from consulting and helping homeowners plan out their projects, to building new bathrooms or open concept kitchens. If you need a professional contractor for your project our experienced craftsmen will be able assist with any job big or small- no matter how complicated it may seem at first glance.
A lot can change when planning an addition onto one's house – especially if said person doesn't know what they want done other than wanting something added on top there already (a patio?). That's why I'm here: my expertise is adding flesh onto these dry bones by helping people get inspired through design ideas.
HOME RENOVATION & CONTRACTING SERVICES IN SHERMAN OAKS
Increasing The Value Of Your Home
If you're planning to sell your home shortly, a whole-house renovation can help increase the property's value and the attention it receives from potential buyers. Making the home look as appealing as possible will give buyers one less thing to worry about. They'll also be looking for unique elements they won't have to replace themselves, such as HVAC systems and home appliances
Reducing Your Energy Costs
Whole-home remodeling can include anything from changing the layout of your home to adding new features like a home cinema. At GWP BUILDERS Inc, we work with you to make sure that your home renovation reflects your unique preferences. We believe that your home should be a place where you can truly relax and enjoy yourself, and we're dedicated to helping you achieve that goal. Contact us today to learn more about our home renovation services.
Making Your Home More Comfortable And Functional
A home renovation is a great way to make your house a more pleasant space and be somewhere that lives up to its full potential. Contact GWP BUILDERS INC today to learn more about how we can help you with your home renovation. We would be happy to answer any questions you may have and provide you with a free consultation
Are you thinking about remodeling your home?
You're in the right place! GWP Services is a full-service remodeling company with over 25 years of experience. We can help you with every step of the process, from design to construction to finishing touches. We'll take care of everything, from demolition to installation, so you can relax and enjoy your new space. Plus, we offer a wide range of products and finishes so you can choose the perfect look for your home.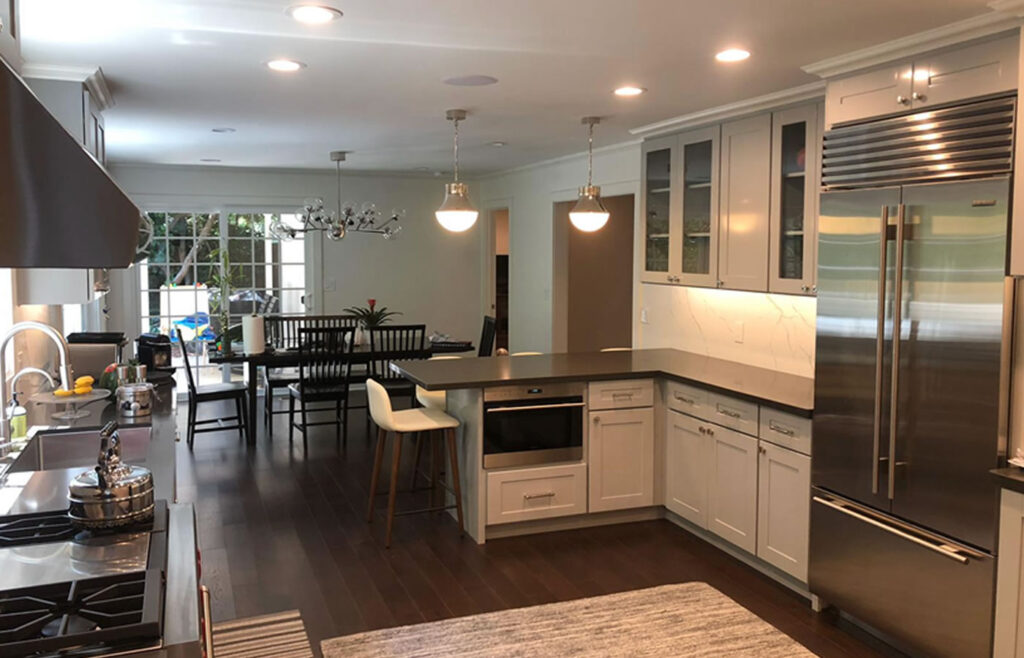 Exceptional Home Renovations in Sherman Oaks
GWP BUILDERS Inc is dedicated to helping you achieve your dream home. From start to finish we can assist with layout, design and construction of any space in your home including bathrooms, kitchens, basements, living spaces and so much more. Our skilled team will make the renovation process easy and enjoyable. We provide complete Home Renovation services including Drywall, Flooring, Tiling, Plumbing, Electrical, Lighting and any other custom features to meet your design needs. Get in touch with us below!
Patrick Wilson
2022-10-03
I was looking to renovate my bathroom and found GWP services inc through a post on instagram. I liked that they had the best reviews so I gave them a call. The bathroom remodeling went really well and the job was finished in 3 days! I'm really happy with their work and would recommend them to anyone looking for remodeling services.
I used to work a lot with low-cost companies, but I did not get what I wanted on my projects. GWP is a general contractor in the area and I am glad I gave them a try. After all, I found out that GWP has been a long-standing company in the community with great experience working on residential, commercial, and industrial projects of all shapes & sizes. Sometimes it's hard to find companies that are willing to take on small projects like my bathroom remodeling project, however, they did and did it well. They were fast, efficient, and reasonably priced. Working with them was an absolute pleasure. If you're looking for a general contractor, I highly recommend GWP services inc.
I've been working with GWP services Inc for a year. They are a great company to work with and always go the extra mile to ensure the job is done right. Just last month, when I was struggling with my pool's development, they were able to come in and help me finish it off. I am so impressed by their level of service!
I am so glad I hired GWP services inc to remodel my bathroom. They have decades of experience and a lot of know-how when it comes to bathroom remodeling. The team was very professional and they did not waste time. I am so pleased with the quality of work that was done in such a short period of time!
We were looking for a general contractor to help us get off the ground and we found GWP services inc. The project leader came out to see our proposed site when we were just starting to build it. He was able to gauge where we needed assistance most and helped us tremendously in finding solutions. The company ended up doing more than just contracting work.
We were ready for a change because the backyard had always been deserted. We hired them for hardscaping and were pleasantly surprised by the wide range of options for our patio. We finally have a gorgeous backyard with a concept that matches our desires. They are the greatest hardscaping service provider.
We needed a spot to sunbathe and build a fireplace in the backyard. We were captivated by a design you showed us and decided to hire your professional hardscaping services. We're overjoyed, and we're awaiting summer.
William Masterson
2022-04-12
Very fond of your company pool development friendly designs for both children and adults pools for our building.
The crew was just wonderful. I am more than happy as I had a company like GWP for my home renovation. The crew was super friendly and above all their professionalism was just full to the brim. They managed to put even the tiny details of the design we instructed and shared their amazing creativity too. They recommended us some beautiful ideas we could never have thought of. Very impressed by their creativity and proficiency!
Richard Miller
2022-03-01
It was the first time we ever initiated our pool development project. I didn't have a single clue about it and through a recommendation of a friend of mine, I finally decided to start the project. My friend also recommended this company to me and as per his say, I contacted them the next day. They were very patient with me on the phone and sent their team a few days later for the project. The team explained every step that they were taking and gave me some general tips also. 100% happy with their service.
Work with a team you can trust when you hire GWP BUILDERS INC. The only limit to what we can accomplish is your imagination, so bring us your ideas and we will help you create the pool of your dreams. Free estimates are available for all our services, so contact our Sherman Oaks Home Remodeling team today! Let's get started on your Pool remodel! Call (888) 515 4488 today!